Installing Granite Supports
Support Granite Spans and Cantilevers
 As a granite support guide, in designs where your countertop spans supports, the length of the span (side to side as your facing it) should be 16 to 20 inches.
For designs where your countertop is cantilevered or overhangs the supports, overhanging portion should be limited to 2 to 3 inches from the outer edge.
Note: Fragile stones may require corbels and supports that are spaced closer together and that do not allow as much overhang than the specifications here.
Granite support brackets
Use granite countertop support brackets to support countertops with overhanging stone.  Considering that granite, marble, and limestone can have overhangs weighing hundreds of pounds, and considering how brittle granite countertops can be, granite support brackets are imperative.  Quartz countertops often do not need support brackets.
Brackets to support granite can be either functional, decorative, or both depending on your granite countertop installation.  Hidden granite supports are especially practical.  And unlike laminate countertops that do not require supports, natural stone countertops require some thought and understanding of why and how they will be used.  It's best to let an expert such as your granite fabricator determine the need.  See Original Granite Brackets for expert assistance choosing hidden countertop supports.
How to add supports to countertops
You can use hidden mounting brackets to add support for countertops creating a floating countertop effect. There are several types of countertop support brackets we recommend:
* Knee Wall or Pony Wall Brackets go over just  that; a knee or pony wall. Our favorite is by The Original Granite Bracket.
* L Bracket for countertop supports is our favorite featured in the how to install countertop supports video above. This countertop bracket is super easy to install even by DIYers!
* For kitchen Island's with no knee or pony wall we suggest the Hidden Island Support Bracket to protect your granite or stone overhang. 
There are some very unique brackets The Original Granite Bracket Company also sells for special uses.
* The Side Wall Countertop Bracket is attached directly to the side of the cabinet wall, hence the name. This bracket is great for places where a knee or pony wall bracket cannot be used.
* The Free Hanging Shelf Bracket is used in many places, like floating mantels, desks, or our favorite floating bathroom vanity tops. This is a must see and great use of space.
* One of our other favorite brackets used to install to cabinets to protect countertop overhang is the T brace. This is used also when there is no knee or pony wall. 
The Original Granite Bracket can offer more details on mounting.  Also, by informing them of your project, they will modify your brackets or reverse the countersunk holes . . .  at no additional charge. Their support team has years of kitchen design and granite installation experience. They are our recommended go to for hidden countertop support brackets for that reason. 
Tell your contractor to choose The Original Granite Bracket 
No need for custom-made brackets when high quality, standard brackets are available for free shipping … and at prices you can't beat!
The strongest granite brackets available!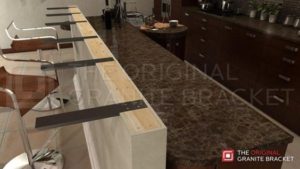 Granite and quartz supports for kitchen island
Hidden Countertop Supports
Hidden Granite Countertop Supports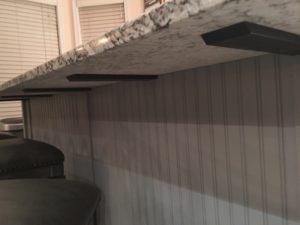 Weather Resistant Granite Supports
Perfect for heavy overhangs outdoors or even floating shower seats indoors
Supports for granite breakfast bar
Don't forget to care for your newly supported granite counters with recommended granite sealer and stone cleaner.  You can purchase these products in a granite care kit to reduce your cost and give your granite protection that lasts for 10 or more years.
Short videos show how to maintain your granite

Return from How To Support Granite to Homepage