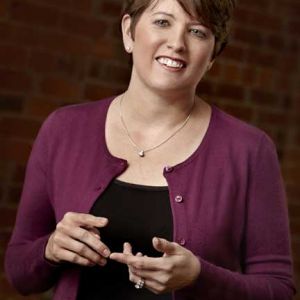 Angie's list, HomeAdvisor, and ProRinger are all vying for the role of connecting contractors to homeowners … along with a monetary piece of the action.  How do you choose which service is best for you?
ProRinger
ProRinger touts itself as the only free open market in the US for homeowners and contractors to connect.  You create an account for free and then list jobs or find contractors without a fee.
You can chat with contractors that are online at the time to get immediate answers or quotes.  
You can also post reviews for others to read.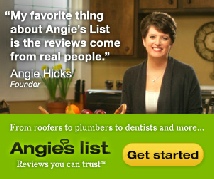 Rare Stone Tables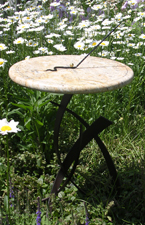 HomeAdvisor
HomeAdvisor is advertising heavily now to compete with Angie's list.  Like ProRinger and Angie's list,  HomeAdvisor lets you post contractor reviews for other users to make more informed decisions.
They promote their HomeAdvisor Seal of Approval to boost confidence.  Contractors are put through a background screening to receive approval.  They check state-level trade licensing and claim to help resolve complaints.
The background check takes place at the time the contractor enrolls, and HomeAdvisor states they "cannot guarantee that profile and screening information is accurate or up-to-date".  Therefore, they recommend you verify the information yourself.
Angie's list
Angie's has been a favorite for many years.  It's still probably the most trusted service to find granite fabricators, contractors, and other kitchen and bath specialists.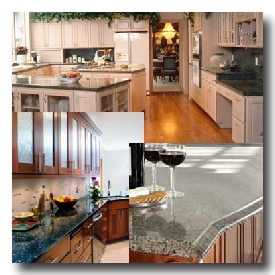 Here's why I believe that . . . along with countertop supports, our company has been a granite countertop fabricator and granite installer for several years.
Twelve years ago I was approached by Angie's List for what I thought was a solicitation for more advertising or worse, a scam.   So I said, "No thanks".
Even with all my contacts in the building trades (and considering the down economy), you'd think I'd have no problem getting quality work and finding local contractors in my OWN home.  But that hasn't been the case.  And that's where Angieslist.com comes in.
What is Angie's List
Angies List is not interested in getting contractors to write a check for a recommendation.  In fact, none of the reviewed or recommended contractors EVER pay to be listed.
A company is listed and then other members and consumers review the contractor, their practices, and their reputations.  There are no anonymous reviews.
What I thought was a hassle, was actually a blessing for homeowners like myself.
Then I discovered that they weren't asking for any money from me.  Instead they wanted to provide their members an honest evaluation of my company.  And for the last 12 years now, I've been a real fan.
Even for granite countertops, their listings help determine granite countertop pros and cons and they help find the best granite countertop prices.
Better yet, as a member of Angie's,  you have access to reviews of not just home improvement contractors, but also auto mechanics, and even healthcare providers.
When dealing with contractors of any kind, quality referrals are your best way to avoid the frustration and hassle.
And it's why you should consider a referral source like Angieslist.com to help you find any kind of contractor, not just granite fabricators and installers.
So check out Angie's today!   You'll find thousands of unbiased reviews of local service companies.  Get a personal recommendation  from someone just like yourself.  And remember no contractors can pay to be on the list.
Even though I've been in the building trades for years, I use Angie's List myself, everything from car repair to medical providers.
Try the Angie's List Promo Code Free Trial if it's being offered or the or an Angie's List coupon or Angies List Promo such as the 45% off incentive coupon on this page.
Just like an Amazon promo code or a Kohl's promo code, these Angie's List promo codes will make your  membership price a bargain – even more savings on a great service.
Angie's List Mobile Apps
Angie's List apps are available for Apple and Google devices
The Angie's List mobile app offers access to Angie's List verified ratings and reviews to anyone who has purchased a current Angie's List subscription. See ratings for contractors in 720 unique services such as home repair, auto care, and health and medical services.
Down load the app from the App Store or the Google Play Store.
SnapFix
Angie's also introduced SnapFix. Snap a picture and Angie's List can provide a highly-rated provider to perform the work.  Angie's List team will contact you to coordinate and schedule work, then we work together to get the project scheduled as quickly as possible. Apple users can access SnapFix through the Angie's List app.
Angie's List Helpful Hints
3 Questions Your Contractor Should Never Ask
Here's an example of helpful information you'll find on Angie's List . . . Service companies will qualify their customers with requests for information that can seem invasive and even rude.  However, certain questions should throw up a red flag.  Here's what to be cautious of – Angie's List Advice.
Return to How to seal granite